Can Natural Color Help Cereal Sales?
According to General Mills CEO Ken Powell, "nearly half of U.S. households are making the effort to avoid artificial flavors and colors." That appears to be a key impetus behind the announcement last month that General Mills' Big G portfolio of cereals will use only natural colors by 2017. Kellogg announced similar plans just last week. I can't say this comes as a surprise.
Like most large branded food companies, General Mills and Kellogg have been facing a lot of headwinds over the past few years with consumer skepticism of "big food" on the rise, and a new generation of Moms who believe that simple ingredients are simply better.
80% of Millennial Moms Are Concerned About Artificial Food Colors

Will the move to natural flavors and colors bring growth back to the cereal aisle?
That is tough to say for certain but let's examine the situation. According to IRI data, the cold cereal category is off about 2.5% in the last 12 months.
Senior Euromonitor food analyst Jared Koerten recently commented that simple ingredient reformulation didn't hit on the root cause of cereal's decline, which he believes is competition from more convenient on-the-go breakfast options like snack bars or yogurt. According to Mintel's, June 2014 consumer survey, there are three key reasons some consumers are eating less cereal:
They are eating other breakfast items with more protein (33%)
They feel cereal has too much sugar (24%)
They are eating breakfast items with more fiber (23%)
Historically, cereal has enjoyed a beneficial health halo that appears to have lost its luster. However, while cold cereal has seen declines in the traditional retail channels like supermarkets, Mintel reports that cereal sales are up 20% in the natural channel.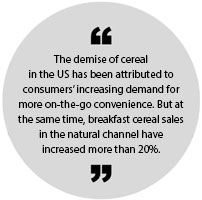 It appears that interest in a) natural, b) organic, c) gluten-free and d) non-GMO cereals is very strong indeed. Manufacturers, including General Mills and Kellogg are increasingly innovating to align with the new consumer view of wellness in the cereal aisle.
General Mills has already experienced success with its Nature Valley Protein granola as well as its
expansion into gluten-free cereal varieties. Meanwhile, Kellogg recently introduced a new product line
called Kellogg's Origins, which is a range of cereals, granola, and muesli made with simple ingredients.
At Sensient, our view is that the move to 'colors from natural fruit and vegetable sources' can indeed provide an additional boost to the category overall if supported with a compelling marketing effort.
Perhaps more importantly, General Mills and Kellogg's are positioning their cereal brands in a way that will better connect with the new generation of Millennial Moms. While Powell stated that half of the U.S. households are seeking natural colors and flavors, our research at Sensient indicates the key Millennial Mom segment is significantly more concerned about artificial colors. Eighty percent are voicing concern about synthetic colors.
What else should we expect going forward?
1. Store brand reformulations to natural colors for cereals in the next year
2. More activity from other brands on natural colors in additional categories
3. Increased marketing activity from brands that use colors from natural sources
It is an interesting and challenging time to be in the Food Color business. At Sensient, we have spent the
last several years working on solutions that would enable food manufacturers to delight their consumers
with the bright and appealing colors they expect. For more on challenges and solutions for cereal, I highly recommend reading Karen Brimmer's blog here.