Naturally Colored Extruded Cereal
Recently, there have been a number of high profile food brands announcing their intention to remove artificial colors and flavors from their product lines. The cereal aisle is no exception, with General Mills unveiling their new naturally colored Trix formulation. Furthermore, the company committed to remove artificial color from all cereals by 2017.
At Sensient, our color lab has spent the last several years researching and developing color solutions for extruded cereals. This is a complex challenge due to variations in both the cereal flour base as well as extruders. Additionally, the extrusion process varies greatly from company to company, making "out of the box" solutions less than optimal. A customized approach is necessary.
The heat generated by the extrusion process is the primary challenge because some natural color sources are sensitive to heat. Also, the pH of extruded cereal is generally neutral and if standard Anthocyanins are used for color in a neutral pH the shade yielded will be purple rather than a bright red. In order to achieve a red shade, the use of a pH stabilized Anthocyanin or alternately Sensient's heat stable beet solution is necessary. Lastly, if the cereal flour base is even slightly yellow verses a bright white; the shade of the final product could be impacted. For example; a target blue could shift to a less desirable gray or teal.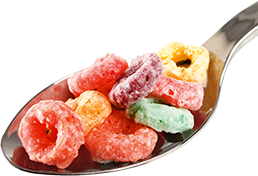 Natural color sources have varying stability issues and therefore the slight differences in heat, pH and base color can impact the success of the color formulation. With synthetic colors the minor variations in heat and pH do not have an impact on the overall color. However, even synthetic colors can experience shade shift if the cereal flour base is a yellow shade.
Below are some excellent options for all colors of the rainbow.
Sensient's Natural Blue can be used to attain a navy to steel blue shade. While Spirulina produces a bright blue shade, it is unfortunately not stable and not permitted for use in extruded cereal.
An army green can be achieved using a blend of Sensient's Natural Blue and Turmeric. Cu Chlorophyllin will also produce a nice bluish green shade but is still being petitioned for use as a food colorant in the US.
Sensient's Heat Stable Beet or pH stabilized Anthocyanin will create a deep 'berry red' that can be quite appealing depending on the target.
A dark or reddish-purple can be attained using an Anthocyanin fruit or vegetable juice.
Turmeric is generally a great option when the target is a bright yellow color.
A bright orange shade is possible using either Sensient's Pure-S Orange or a blend of vegetable juice and Beta Carotene.
Sensient's Natural Brown comes from a combination of our Natural Blue and other natural colors. It will produce different shades of brown, from a buttery yellow brown to deep auburn.
Though the above options are for cereal brands looking to switch from synthetics to naturals, Sensient will continue to search for additional, and in some cases, even better solutions and color sources. We are on the brink of a 'next generation' Heat Stable Beet that will function better in more extruders. Additionally, we are exploring novel Caramel-free browns, and once Cu Chlorophyllin is approved we will have another green shade in our crayon box.
Because each extruder and product base is different, custom solutions are best. Our technical team is devoted to finding the right solution for your specific needs.
Continue to follow our blog for additional guidance on formulation challenges.